Not a supplier. A syndicate.
We back everyone who runs with us. Criminal Coffee is dedicated to providing you with extremely efficient, state of the art machines and grinders, thanks to our exclusive partnerships with La Marzocco, San Remo, and Mazzer. We provide around the clock technical support to ensure that you are always operating at maximum efficiency.
We're determined that our coffee is consistently delicious, so in order to maintain quality we provide in-depth education, efficient training and proven operational practices that ensure your team always achieves excellence.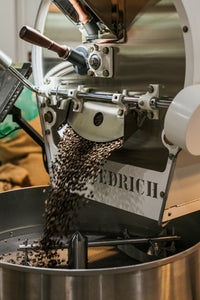 EXCELLENT COFFEE.
Roasted at our state of the art Sunshine Coast roasters, the blends and single origins we produce are the purest expression of our love for coffee. We speak directly to customers, ensuring that all our coffee is exciting, understandable, and delicious. Our beans are sustainably and ethically sourced thanks to relationships we maintain with farmers and suppliers.
Our head roaster Simon focuses on collaborating, communicating and maintaining relationships with suppliers in order to ensure a constant influx of fresh, sensational coffee. Simon works tirelessly, constantly experimenting, tweaking blends and roasting weekly, forever working towards his relentless pursuit of perfection. This ensures there is always a varied, tantalising and delicious range of coffee available.
JOIN THE SYNDICATE.
We can't wait to work with you.